HOOD CLEANING - KITCHEN EXHAUST CLEANING - RESTAURANT HOOD CLEANING
VENT HOOD CLEANING - Free On-Site System Inspection & Evaluation
What We Offer

Over 25 Years Experience

Certified, Trained & Insured Technicians

State Of The Art Hood Cleaning Tools

Complete Kitchen Hood Cleaning Service

Properly Cleaned to NFPA 96 Standards

24/7 Service & Emergency Support

100% Customer Satisfaction
FREE ON-SITE INSPECTION & EVALUATION

or CALL 1-360-352-8484
Customer Solutions

About Us

Our Hood Cleaning Service

Hood System Information 101

Fire Codes: Liability and Safety

See Our Work: Photo And Video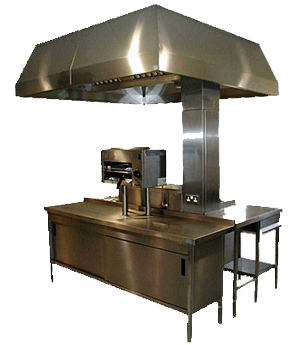 Hood Cleaning FAQ
Frequently Asked Questions
Q: Why can't my employees clean the hoods?
A: NFPA 96 states, "The entire exhaust system shall be cleaned by a properly trained, qualified and certified person(s)." Work of this nature takes special tools, equipment, and expertise to properly and thoroughly clean.
In Washington State, the Fire Marshal follows the NFPA 96 Standards as part of the Fire code. If you violate the code by using a non-certified person(s), it can be considered to be negligence on your part.
Q: What Hood Cleaning Certification means?
A: Certification is a formally stated recognition and approval of an acceptable level of competency, acceptable to the Authority Having Jurisdiction. In 1998, to improve commercial kitchen fire safety, NFPA 96 approved the proposal that restaurant exhaust systems be inspected and cleaned by a certified person(s). Since that time, Fire Marshals are requiring exhaust system cleaning certification as proof of competency to comply with code requirements.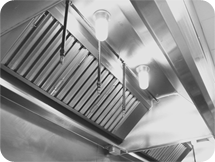 Q: What do you clean?
A:We take care of what you see in the kitchen, but most importantly what you do not see from the roof down. We clean the entire system starting from the exhaust housing and blade, including: fan maintenance, grease bearings, and belts adjustment or replacement to ensure the motor is operating in ultimate condition. Then we go down the duct work into the hood plenum area cleaning the system to NFPA 96 standards. Lastly we clean the fire suppression linkage, clean the filters, grease cups, gutters and polish the hood inside and out. The entire kitchen exhaust system is cleaned using several techniques: by steam cleaning, power washing, spin jets, manual scrapping and chemical application.
Q: Why is cleaning the entire system important?
A: Hoods and fire protection systems have the most legal requirements of any equipment in the kitchen. Typically, the health department is concerned about sanitation, the fire and building departments are worried about fire hazards, and an environmental agency is often worried about the smoke emissions pouring from the ducts. Most cooking facility fires originate in the cooking area, which can quickly spread into the exhaust system, and onto the roof. Keeping a grease-free and fire safe system can protect you from this hazard.
Q: Does my kitchen need to be closed at time of service?
A: Yes, any equipment under your hood will need to be turned off and cooled down. Pilot lights will be turned off and re-lit upon our departure.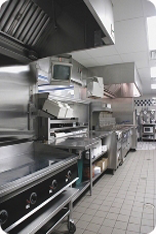 Q: What is Fire Code NFPA 96?
A: Standard for Ventilation control and Fire Protection of commercial Cooking Operations.
NFPA 96 details the minimum fire safety requirements (preventative and operative) related to the design, installation, operation, inspection and maintenance of all public and private cooking operations, excluding single-family residential usage. These requirements include, but are not limited to all manner of cooking equipment, exhaust hoods, grease removal devices, exhaust ductwork, exhaust fans, dampers, fire extinguishing equipment, and all other auxiliary or ancillary components or systems that are involved in the capture, containment and control of grease laden cooking effluent.
The provisions of this standard are considered necessary to provide a reasonable level of protection from loss of life and property from fire and explosion. The standard is intended to be applied as a united whole. It cannot provide safe design and operation if parts of it are not enforced or are arbitrarily deleted in any applications. The authorities having jurisdiction shall determine compliance with this standard and authorize equivalent derivations from it in all applications.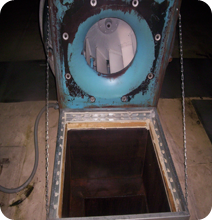 Q: Why do I need a Fan Hinge?
A: Fan Hinge is required by NFPA 96 to ensure the fan can be lifted and tipped securely for proper cleaning of the fan blades and the ductwork underneath. Hinge kits are required for all upblast fans and greatly reduce the deterioration to fan motors, housing, electrical wiring and roof tops that can occur during the cleaning process.
Q: What's a Fan Grease Trap?
A: Fan Grease Trap is a container located around the fan on the roof to prevent grease overflow and leakage, over time causing damage to the roof's surface.
Q: Do you clean the Fan Motor compartment?
A: The fan motor compartment contains the motor, electrical components, belts, pulleys and bearings. The use of water to this area is damaging. This area is located on top of the fan under a protective cover. PowerClean does not clean this area for safety reasons, but we will inspect the compartment for your system maintenance report, letting you know if everything appears to be in proper working order.
Q: Do I have an adequate number of Access Panels?
A: Access Panels should be installed every 12 feet and at every bend. A general rule of thumb is, if you can not see it, you can not clean it.
Q: Machinery always seems to break after hours. How do I get emergency service after hours?
A: PowerClean offers 24/7 hood cleaning service and emergency service support. We have on-call and after hours hood cleaning specialists available to assess your issue.
We may dispatch a service technician directly to your business or we may give you priority scheduling for the next-morning, first-call service. Either way, we will take care of your situation and get things in working order as quickly as possible.
Call our Toll Free 1-866-991-9990 ext 3 and leave a detailed message including your contact information. A service technician will return your call within 10-15 mins.
Back to top