HOOD CLEANING - KITCHEN EXHAUST CLEANING - RESTAURANT HOOD CLEANING
VENT HOOD CLEANING - Free On-Site System Inspection & Evaluation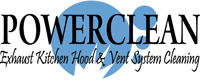 Over 25 Years Experience

Certified, Trained & Insured Technicians

State Of The Art Hood Cleaning Tools

Complete Kitchen Hood Cleaning Service

Properly Cleaned to NFPA 96 Standards

24/7 Service & Emergency Support

100% Customer Satisfaction
FREE ON-SITE INSPECTION & EVALUATION

or CALL 1-360-352-8484
Customer Solutions

About Us

Our Hood Cleaning Service

Fire Codes: Liability and Safety

See Our Work: Photo And Video

FAQ - Frequently Asked Questions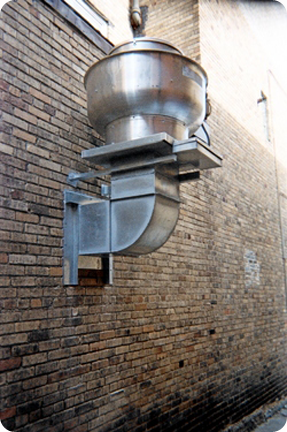 Commercial Kitchen Hood System 101
Maximum Efficiency
A typical kitchen ventilation system includes a hood or canopy, filters, ductwork, exhaust fan, and a means of providing adequate make-up air. The entire system must constitute a fire-safe assembly within the building.
Exhaust Hoods And Canopies capture heat and contaminates in the air by means of filters, extraction baffles (cartridges), and water mist systems. There are many style variations of hoods with canopy styles—a large box with an open bottom—being the most common. Style selection is based on the type of oven and the expected contaminates to be removed. While there are several styles of hoods, all fall within two major categories: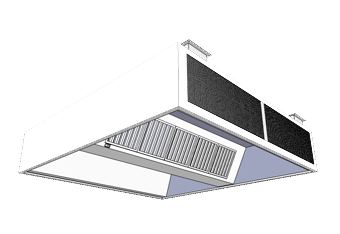 - TYPE I HOODS - are used over cooking equipment producing heat and grease laden effluent. They are designed to handle grease and include a number of integrated components within the hood.
- TYPE II HOODS - are used in the collection of steam, vapor, heat, and odors (but not grease). The two sub-classifications of Type II hoods are condensate and heat/fume.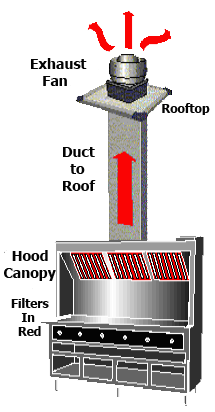 Filters or Extraction Baffles: Collect up to 80% of grease when fans and exhaust systems are working properly. Historically, grease filtration and extraction devices have been, in essence, fire-protection devices. Filters should be kept clean regularly. Three main types of grease filters and extractors in use today include the baffle filter, water wash filter, and dry-cartridge (or removable) filter. Filters also now exist which use a filter media to intercept grease particles. Ultra-violet (UV) treatment is also being incorporated into new hood design. UV light breaks down grease molecules into smaller harmless compounds of carbon dioxide and water vapor, which are carried out with the exhaust airflow.
Exhaust Ductwork provides the means to transfer contaminated air, cooking heat, and grease vapors from the hood to the fan. Metal tunnel, ducts direct grease outside of building. Ducts accumulate combustible grease. The duct is often run inside a shaft enclosure and that enclosure is typically constructed of gypsum board, plaster, concrete, or ceramic tiles and must be an approved continuous fire-rated enclosure.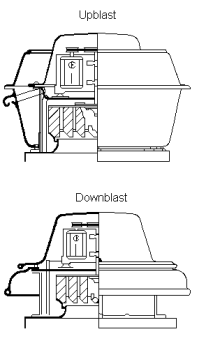 Exhaust Fans move the heat and contaminated air out of the building. All exhaust fan components must be accessible or have removable access panels for cleaning and inspection and must be designed to contain and drain any excess grease. NFPA Standard 96 (8.1.1.1) require exhaust fans to be hinged for proper cleaning of the fan blades and ductwork underneath. There are three major types of exhaust fans:
- UP-BLAST & DOWN-BLAST FANS - are typically aluminum centrifugals that are designed for roof mounting directly on top of the exhaust stack.
- UTILITY FANS - are normally roof-mounted with the inlet and outlet 90 degrees from each other and are typically used where high-static pressure losses exist.
- INLINE FANS - are typically located in the interior duct and are used where exterior fan mounting is impractical.
Back to top